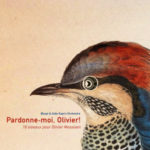 Pardonne-moi, Olivier!
16 oiseaux pour Olivier Messiaen
OCD035: Off-Record label /Broken Silence
Digital release on the 18th of November 2016.
Physical release on the 3th of Febbruary 2017.
Økapi: Direction
Geoff Leigh: voice, soprano sax, flutes
Mike Cooper: guitars
Simone Memè: live visuals
Aldo Kapi's Orchestra: Olivier Messiaen – Jon Appleton – Senking – David Berezan – Kyoka – Marc Tremblay – Aoki Takamasa + Tujiko Noriko – Paul Dolden – Ryoji Ikeda – Mochipet – Elsa Justel – Circuit Bent- Subjex – Mr. Ours & 4bstr4ck3r – Coh – Martin Leclerc – Herve Boghossian – Monty Brigham bird sounds collection – Adrian Moore – Signal – Christian Bouchard – Anemone – Kangding Ray – Louis Dufort – Hildur Gu›nadóttir – Wolfgang Voigt – Marc Tremblay – Atom Tm – The Three Suns – Åke Parmerud – Emptyset – Spontaneous Music Ensemble – Ivor Darreg
The album is a plunderphonic parabola of the imaginary world, mystical and ornitological, of the French composer of the XX century, Olivier Messiaen. A sort of birds' catalogue, as Messiaen tried to do during his life.
As always, even in this case økapi composed a little sound-collagism opera, which includes a video development. This is the soundtrack of this "movie".
For this A/V-project, økapi is co-working with the italian video-artist Simone Memé, part of the collective MoreTv-V.
Because of his dixit plunderphonic nature, and for the occasion, økapi involved Geoff Leigh (sax/flute) and Mike Cooper (guitar) into his phantomatic virtual orchestra.
Geoff Leigh (voice, soprano sax, flutes). Well known for his work in the 70's with Henry Cow, Hatfield And The North, Slapp Happy etc., Leigh then went on to play world music, post-rock, free jazz, and electro-acoustic music. For several years he has collaborated with Faust, and his current projects include The Artaud Beats (Chris Cutler, John Greaves, and Yumi Hara), Jump For Joy (Cutler, Hara, and long-standing Faust members JH Peron and Zappi Diermaier), Warrior Squares (English electronica group), and guitarist Makoto Kawabata (Acid Mothers Temple). Since 2009 he has toured Japan four times (with The Artaud Beats), and has played on numerous occasions in England, France, Belgium, Germany, Italy, Scandinavia, the Baltic countries, and Russia.
Mike Cooper (guitar). Currently lives in rome/italy and for the past 50 years has been an
international traveller and musical explorer pushing the boundaries of his music and art.
He is an improviser working with music, film and video; visual and installation art as well as
composing and performing live music for classic and contemporary silent film screenings.
His full biography and extensive discography can be viewed on his website: www.cooparia.com.
Simone Memè is a Visual artist and Co-Founder of More*TV*v, a VJ and Video Artists Group, that works on Audio/video performances, mapping and VJing during DJ sets. More*TV*v has collaborated with electronic DJs and Music Producers as well as with various live bands creating unique and original live performances. Thanks to the group's passion for art films, animation and video vanguard they've created a new language with a strong empathy between the sound waves and the public. As Co-founder of Aye Aye – Interactive Experiences, specialized in the production of interactive videos for museums, exhibitions and private clients, Memè also works on the design and the realization of interactive video contents.
The experience gained during live performances and a well trained ear, define his excellent improvisation skills, which have led to numerous collaborations with theater companies.