The Økapi is a mammal which was only discovered in 1901 by an acousmatic engineer. It lives wild in the forest of the Itur Region in Upper Zaire. It was named the Okapia Johnstoni and it also commonly known as the "Daft Giraffe of the Forest".
One of its strangest characteristics is that it is the only known mammal to wash out its own ears with its tongue: just to catch the weird melodies of nature! He adores those ferocious and vindictive chants that make him sway like … and he fights relentlessly for the domination and hegemony of incorrect and unlistenable music. He hates talking about music and certain music purists of the Forest are definitely not his friends! ….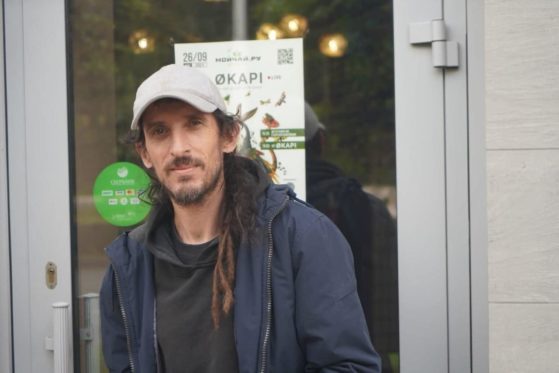 Økapi, aka Filippo Edgardo Paolini, is a electronic music composer, a french-italian collagist, turntablist, sample cutup artist and exponent of plunderfonia. Because of his omnivorous culture, Økapi cuts and breaks musical micro-phrases to compose in electronics what was not there before. One could say Økapi is an ecological mammal, he has never generated a sound, but he has orchestrated pieces of unique intertextual stratification, refined irony and symphonic lightness.
His compositions keep the aura that is of his own life and his name: Økapi is the zoomorphic collage par excellence, a bit zebra and a bit giraffe; Økapi albums tend not to be placed in unique genre classes; and Filippo Paolini himself is a maquillage of many lives: a Spanish mother and a Tunisian father, he was born in 1966 in Versailles and spent his childhood in Bermuda, unique white child among children. He arrived in Italy only in adolescence, in the Marche region. Then in Bologna, Milano and Roma. In short, there is nothing provincial. And, one would say, not even Italian: it is no coincidence that his name is better known abroad.
In the early 90s, once in Rome, Økapi starts playing vinyls, influenced by the new scene of plagiarism and radical dj, but keeping the acousmatic approach of the concrete and electroacustic music.
In 1992 Økapi creates a little pirate label called Slap-Press, still alive, and he becomes an active member of M.a.c.o.s. In 1997 he founded Metaxu. His first composition was asked by Phonurgia Nova in Arles (France).
During the years, he has played, collaborated and improvised with many musicians such as Zu, Peter Brotzmann, Mike Patton, Matt Gustafson, Geoff Leigh, Mike Cooper, Damo Suzuki, Andy EX, Kawabata Makoto, Eugenio Colombo, Vittorino Curci, Niobe, Anna Clementi, Gianni Gebbia, Matt Bernardino Penazzi, Elio Martusciello, Pasquale Iannarella, Edison Studio, Roy Paci…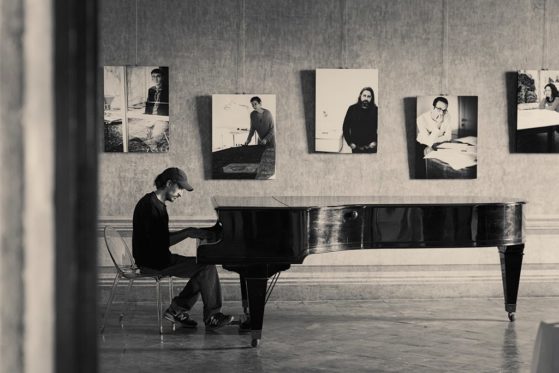 Økapi has composed music for theatre (Festival di teatro di Gubbio, Festival Ostia Antica), for cinema ("Cover Boy" by Carmine Amoroso, "Tre donne morale" by Marcello Garofalo and several short film), for television (Rai – Radiotelevisione Italiana) and site specific installation (Roma Europa 2017). He often played with the JazzCore group Zu. He has collaborated with Cane Capovolto and Metamkine. He still love playing for classical and experimental projects and also performance, dj set, mash-up set in underground contexts.
In 2000 Økapi founds the trio Dogon with M. Martusciello and Massimo Pupillo. He plays in Biennale di Venezia, at "Controindicazioni", "RingRing b92 Around the World", "Biennale artisti d'Europa e del Mediterraneo" "Musica 90" (Torino). In 2000 he plays with Christian Marclay in a performances broadcasted by Radio Rai. In 2009 Økapi receives the award as best electronic musician for "Insound".
The year befor, in the double vinyl "Love him", produced by KLM and Sonic Belligeranza, for the first time appears the name Aldo Kapi and his orchestra. Aldo Kapi is Økapi's etheronym. A music composer from Tagikistan of whom Økapi images to discover and play his musical scores and Filippo Paolini, as web-designer in daliy life, creates a super detailed and false wikipedia profile that resists the controls of the web.
With "Opera Riparata", conceived from an unrealised project by Bruno Munari and Davide Mosconi, Økapi meetd the Opera lirica. He realises 40 remix of 1 minutes and 11 second of the most famous arias. Five years later, in 2017, he realeses "Pardonne-moi Olivier! 16 oiseaux pour Olivier Messiaen", a symphonic opera in three acts dedicated to the French Composer Messiaen and his passion for birds' songs. From both the album, Økapi realized an audio video live performance in collaboration with the visual artist Simone Memè.
From 2015 he plays in the impro trio K-Mundi (Økapi/Adriano Lanzi/Marco Ariano).
DISCOGRAPHY
Økapi
K-Mundi
With Zu
Metaxu
Dogon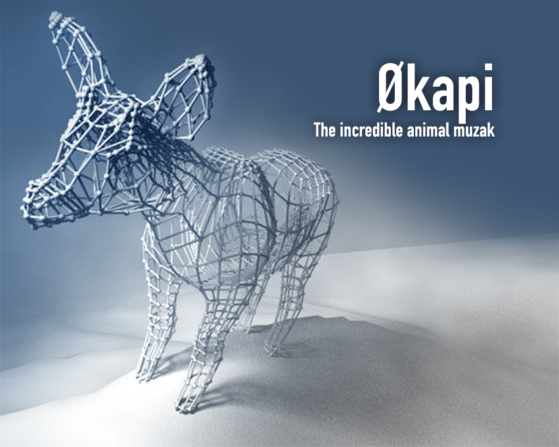 Other festivals: Off-ICMC festival, Berlin – Turin Film Festival – Planétarium de la Cité des Sciences, Paris – Belluard Contemporary art, Freiburg – Offf Festival, Valencia – Musica90, Turin – Dissonanze festival 2005, Rome – Recyclart Festival, Brussels – Unlimited fest., Wels – Earwing NO Jazz Festival, Zagabria – MaerzMusik/Sonic Arts Lounge, Berlin – Romaeuropa Festival, Rome – Stimul Festival, Prague – European Street Party, Budapest – "Electro-Mechanica" Festival, S. Petersburg – BlackMoon Festival, Italy – Boom Festival, Portugal – Ozora festival, Hungary – Satya Festival, Israel – Freqs of Nature, Berlin – Sonica Festival, Italy – Wao Festival, Italy – Lost Theory, Croatia – Tangra Festival, Bulgaria, Tangra Festival, Lithuania – Odysee NYE, Berlin – Tribe Gathering, Panama – Cosmic Convergence, Guatemala – Goulash Festival, Croatia – Midnight sun Festival, Norway, Transylvania calling, Romania – Fusion Festival, DE – Hadra Festival, France – Modem Festival, Croatia, Nuova consonanza IT …