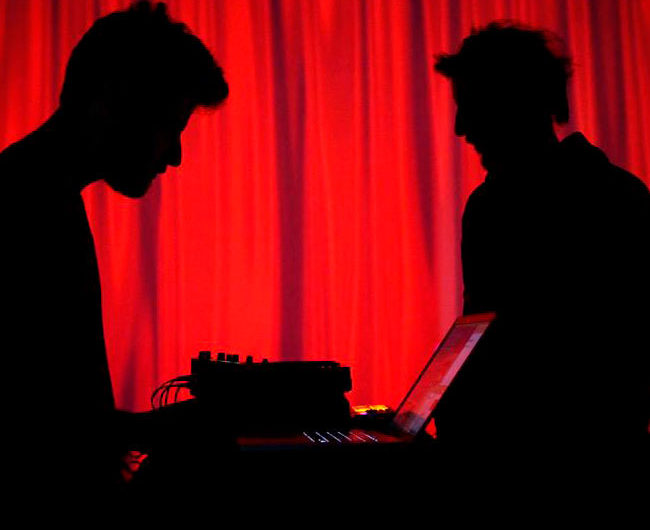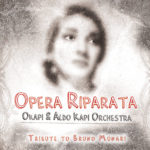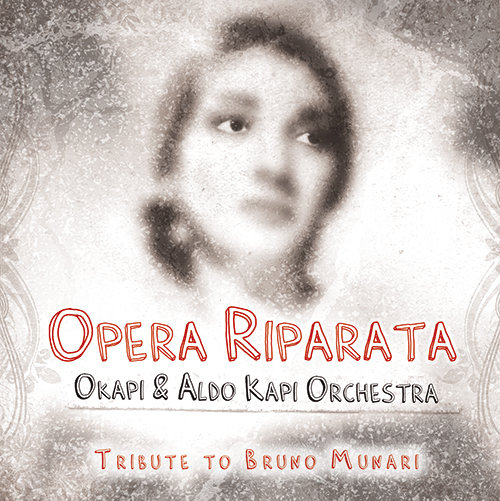 ØKAPI & SIMONE MEME' – Opera Riparata (Fixed Opera)
Økapi is Filippo Paolini, an Italian turntablist and sample cutup artist. Filippo has recorded several solo albums, as well as recording in the duo Metaxu and with the trio Dogon. He has performed live for national Italian State radio broadcasts (RAI) with renowned avant-turntablist, Christian Marclay and collaborates with numerous international artists such as Mike Cooper, Peter Brotzmann, Mike Patton, Matt Gustafson, Zu, Damo Suzuki, Andy EX, Kawabata Makoto, Metamkine… ØKapi's album releases illustrate his unique and edgy use of turntables and computer beyond the hip-hop school of chopped up music, creating music that veers from orchestral to lounge with quirky experimental electronics that maintain a delicate and spacious sound throughout.
Opera Riparata (Fixed Opera) is a tribute to Bruno Munari and to his Broken Opera (created with Davide Mosconi).
Starting from the original text written in 1989 by Munari and Mosconi, the musician Økapi and the visual artist More*Tv*V de-structure and re-compose 40 famous Operas, following the contemporary framework of digital remix (cutting, breaking down, juxtaposing and overlapping).
While Munari and Mosconi's monumental game/engine forecasted several performers and the whole scenic equipment, the Fixed Opera re-handles the same elements of the Opera language using only digital audio and visual instruments.
The possibility of digitalizing amongst every kind of cultural product, and the easiness of their retrieval turns that "availability of the whole music history" described in the original project into something which today is more real than ever, and brings Munari's words into a new level, more prophetic than visionary as well. The Fixed Opera implies two different parts: studio session and live performance. In the first step, Økapi and More*Tv*V work on parallel paths mashing up the 40 Operas in short audio/visual portions of 1'11" time length each. The strictness of the writing mode is controverted in the latter part, when these rational and individual means meet, crash and melt, following the logic and the spontaneity of contemporary improv modules.
Just like in a child's play, the Fixed Opera, though following strict principles and methods of academic composition, at the same time thrives on keeping itself close to the aim of staying free from ties and rules. It therefore suggests curiosity as a way of knowledge and creation but also as a transgression from primary forms to reach an unexpected result.
Økapi & Aldo Kapi Orchestra
Opera Riparata – Tribute to Bruno Munari
Offset records – Officina TodoModo (italian CD) Illegal-Art (International CD)
A genre-crossing journey into virtuoso turntablism with Okapi, aka Italian cutup artist Filippo Paolini, who has previously released work as one half of duo Metaxu and one third of trio Dogon, collaborating along the way with that elder statesman of the turntable, Christian Marclay. These sample-hopping narratives have a strongly humourous streak running through them, inevitably inviting Negativland comparisons, yet the music here tends to be less of a blur, instead forming beautifully produced fragmentary tracts that incorporate snatches of playful abstract electronics, old easy listening records and passages of dialogue. The overall effect is an absorbing musical narrative that's full of wit and sleight of hand.
Simone Memè is a Visual artist and Co-Founder of More*TV*v, a VJ and Video Artists Group, that works on Audio/video performances, mapping and VJing during DJ sets.
More*TV*v has collaborated with electronic DJs and Music Producers as well as with various live bands creating unique and original live performances. Thanks to the group's passion for art films, animation and video vanguard they've created a new language with a strong empathy between the sound waves and the public.
As Co-founder of Aye Aye – Interactive Experiences, specialized in the production of interactive videos for museums, exhibitions and private clients, Memè also works on the design and the realization of interactive video contents. The experience gained during live performances and a well trained ear, define his excellent improvisation skills, which have led to numerous collaborations with theater companies.
Rewiews
WIRED:
"Paolini's remix compositions possess the steely bounce of traditional electronic music, mixed with the sometimes menacing, sometimes whimsical vibe of opera. It's an interesting juxtaposition and one that might sound discombobulating if it weren't so fascinating."
http://www.wired.com/underwire/2012/06/free-mp3-okapi-opera-remix/
INTERESTING BLENDS:
"The pay off is worth it though as within this gargantuan effort there are some incredible bits of music and ingenious use of classical compositions. It's been getting some, justifiably good press, not least by Wired magazine and is a truly great project that I think in years to come will be looked on in the same way as projects such as Plunderphonics."
http://www.interestingblends.com/okapi-aldo-kapi-orchestra-opera-riparata-tribute-to-bruno-munari/
ELEKRO DAILY:
"Paolini's remix compositions include electronic music, menacing and whimsical vibe opera. A perfect mix of an odd but uniquely composed sound."
http://www.elektrodaily.com/news/2012/06/free-music-download-from-italian-turntablist-økapi/
IN AUDIO WE TRUST:
"Økapi takes famous classical works and breaks them down into segments that are exactly 1 minute and 11 seconds, he then rearranges them and tweaks the hell out of them to create some of the most interesting sounds and tracks I have ever heard. At times ominous and other times whimsical this track is in a category of its own."
http://www.inaudiowetrust.com/2012/06/okapi-batch-nine/
IN YOUR SPEAKERS:
"On first listen, I was not sure what I had gotten myself into. However, during the third time though, the initially incongruous composition started to make sense. Through constant sonic foreshadowing and revisiting, this instrumental hip hop-opera achieves level of seamlessness that is nothing short of amazing."
http://inyourspeakers.com/content/news/1-what-happens-when-instrumental-hip-hop-and-opera-combine-12082011
THE END OF IRONY:
"… a truly devilish sampling of opera mixed with contemporary sounds"
http://www.theendofirony.net/2012/01/premiere-okapi-rips-apart-opera.html
BOOMARM NATION:
"Økapi is a maestro of the sample. Twisting hundreds of tiny sounds into a dense and emotive fabric, rich with as much left-field avant leanings as micro techno head nods. We dig..! Heady but also for the heads."
http://boomarmnation.com/2012/02/07/okapi-world-premiere/
SURVIVING THE GOLDEN AGE:
"It is a must listen for fans of classical music, turntablism, or just generally innovative/cool music."
THIS IS BOOK'S MUSIC:
"… it 'borrows' from a number of famous works of opera, breaks it down to its core, then gathers up the dust and residue and creates something uniquely new-yet-familiar, done in the way that Økapi fans have come to know and envy."
http://www.thisisbooksmusic.com/2012/04/28/some-stuffs-free-mp3-download-exploring-the-operatic-experience-of-okapi/
PARADE OF FLESH:
"Always scouring for something original and unique, we came across a 'manipulated classical opera' album by turntablist Økapi."
http://paradeofflesh.com/2012/02/premiere-okapi/
KEMPTATION:
"… a master of turntables and computer tech who reaches far beyond the realms of intermittent sample splicing."
http://kemptation.com/post/27575633463/premiere-okapi-opera-riparata-batch-10
405:
"Weather you like mashups, classical operas or inventive producers, Opera Riparata is worth a listen… it's a sign of a good thing, that Paolini is somewhat breaking through from the mold and is thankfully showcasing this type of talent now."
http://thefourohfive.com/review/article/okapi-opera-riparata
TECHNICAL RIDER:
Audio:
Mixing console: min 2 input,  RCA
4 Cables, RCA
1 or 2 Stage Monitors
Video:
1 HD projector
(indoor >3000 ansi lumens,
outdoor >5000 ansi lumens )
1 screen
1 hdmi cable
optional: monitor preview on stage
2 tables min 1,50mt x 1,00mt
220V plugs