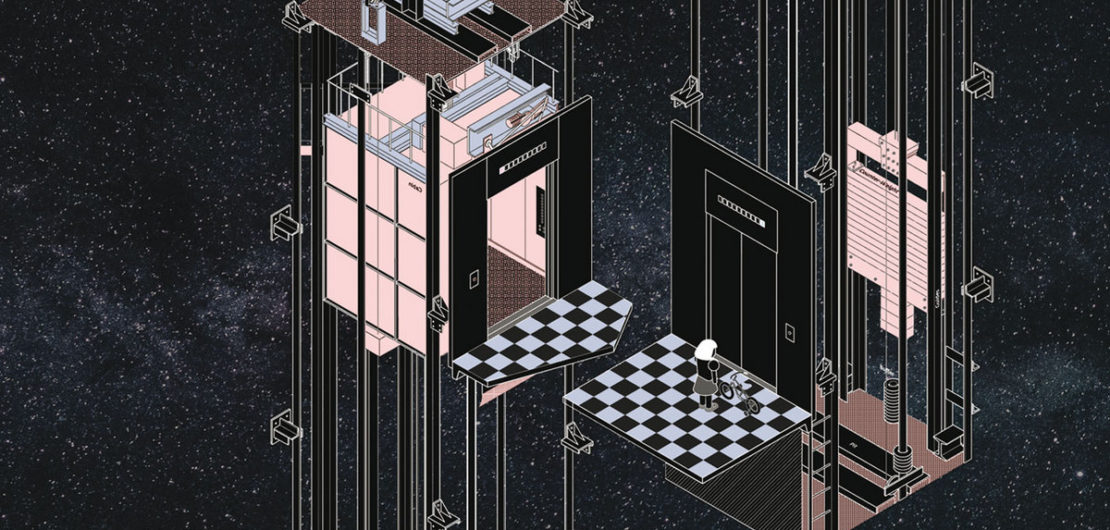 OTIS-Vertical Tales is the new project by Økapi, aka Filippo E. Paolini. A music album and now an audio / video performance. An illustrated journey in motion created by Økapi. Four years after the tribute to Olivier Messiaen, Økapi takes its cue from the story of Otis Elisha Graves, the inventor of the lift, who in the mid-nineteenth century took to the stage at World's Fair in New York to demonstrate his elevator safety brake. It was the way for the vertical push of the horizons, the start to a new narrative imagination that Økapi explores with his sound samples palette (and of images, this time). The compositional processes often are parallel. Sound is born. It turns into an image. And then turns into sound again.  A visionary development that gradually takes shape in the claustrophobia of an elevator, from ground floor to 15th floor.
In the closing remarks of the illustrated book, Økapi writes: «Pushing a button to get us moving means entering a world whose borders are dilated. Space bursts open onto a theoretically infinitive series of variants […] Thought chamber of suspended time […] The lift is the perfect cabin to stop time and play with the immortality of events».
Live duration : 50 minutes
The album – distributed on physical medium (Audio CD), as an illustrated book (with English texts) bundled with an Audio CD and in digital download – was produced by and with Kappabit Music Publishing and is out on Folderol label (FOL-CD008) . Both physical media are enhanced by extra multimedia content available via QR-Code.
Press:
"A wonderful sound experience: an elevator ride to new artistic heights and unprecedented electronic mixes" Sentireascoltare – Nicolò Arpinati
"A project that consecrates the uniqueness of the Roman musician and his visionary compositional freshness, which goes far beyond cut-up skills, Otis-Vertical Tales is a project that should not be missed (hopefully in the future in a performative version)." Il Giornale della Musica – Enrico Bettinello
Reviews:https://www.okapi.it/otis-vertical-tales/
Listen on Bandcamp: https://folderolrecords.bandcamp.com/album/otis

Small bio:
Økapi is a French-Italian composer of electronic music, well-known collagist and exponent of plunderphonic music. He released several solo records and took part to numerous collaborations and line-ups. A reckless crossplayer of codes and genres, an omnivorous listener, he's appreciated in the musical research field and, because of other projects, in the underground and dance world as well.
Extended biography: https://www.okapi.it/bio/
Bio wikipedia: https://it.wikipedia.org/wiki/%C3%98kapi
Links:
https://www.okapi.it/
http://soundcloud.com/okapi23
http://soundcloud.com/okapi
Tech Rider:
Audio: 
Mixing console: min 2 input, RCA 
2 Active speaker system (min.500 watt) 
(optional) 
1 or 2 monitor speakers
Video: 
1 HD projector (indoor >3000 ansi lumens, outdoor >5000 ansi lumens ) 
1 table min 1,50mt x 1,00mt